Another Kiss
June 28, 2015
What has happened? What secret world have I entered,
Past soft flesh, her virgin lips I've ventured
What was I feeling, that fleeting feeling
Pealing my heart with each beating, stealing
Each breath from my chest, less I confess
My eyes are hazed and it is all gone, but the taste
The taste of her first, in her memory and heart, never erased
I'm faced with a world not before seen, I'm a fiend
In this wonderland, this dream, and it seems
That my eyes meet hers in a moment locked away
Played over and over in my mind as I lay
And yet a guilt which taints this sweet moment in time
Is treading on untouched snow a crime?
Still my mind stills, unmoved from the moment
Why do I not feel the need to lament,
The loss of another pure white sheep in a herd
Overrated, not her, cured and freed like a bird
Oh my words, they fail time again, oh why
Absurd that I flail my thoughts, and yet not lie
To myself or to her, the moment lost was not lost
It was the cost of a kiss, carried, not tossed
So light on my feet, feeling not aching nor sore
And so I must wonder if this is what I'm for,
Am I to entertain her, fill her with love and joy
She does not toy with my heart, she be not coy
May I listen to her shy words as they pour into my ear
A new future with new things to fear, cheers
To another world I've stepped to, walked away
From one hill, so this one must do, I'll stand, I'll stay
I'll watch the sun rise, I've survived
Light shines on my face and lights up my life.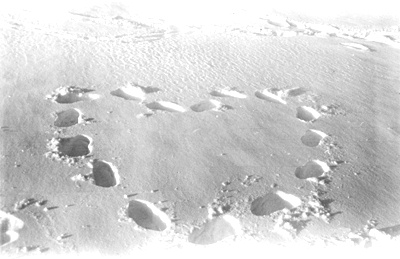 © Kim B., Marblehead, MA