Oh, Steadfast Beach
January 27, 2009
Oh, Steadfast Beach

Oh, steadfast beach.
With aches in my feet,
I think I will take a walk on the beach.
Shoes shall be left behind,
Warmth and shelter in the sand,
My feet will discover.

Why do I go on this timeless adventure?
To let my feet feel secure and safe,
Like a child in his mother's womb.
To let calm surround me.

You should try wading through this deep sand
To think about the calm
Not the calm of impending doom,
But the calm when there's more
There's more to be found
There's more to be found in that deep sand
The calm like the silence before the beautiful storm
Like the calm before the New Year,
The calm that smells like brownies,
With half a minute more to bake.

So dig,
Dig those feet into the sand while you wade
Until your companion stanchions come to the shoreline of sharp shells
Two soldiers, dear friends and their last words before crossing the minefield
Oh, but don't worry.
Soon your feet will be satisfied again,
With the cool, safe maternal feeling of the water,
Your feet like chalkboard erasers being washed down,
Overwhelming every delicate toe.

Oh, steadfast beach,
I think when I walk away from that forgiving beach,
I will gratefully leave my aches and pains here, and you should too.
Left only for the ocean to wash away,
Come December, come May.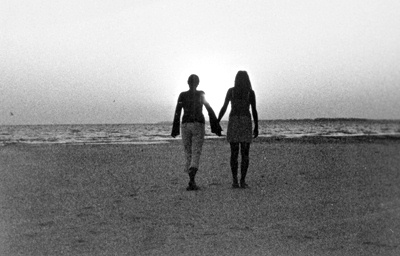 © Kim B., Marblehead, MA