Frozen Lake
February 15, 2009
Cold and frozen.
Only to the eye.
Because in reality it still remains moving underneath.
Running, dancing below.
Gently it puts pressure on the cracking ice.
But only does it skim the glossy undersurface of the piercing cold.
Lines web the surface, but undisturbed and settled it remains.
Until pressure is placed upon it in return.
The web stretches to it's breaking point and the network of lines dig deeper into the surface of the ice.
Breaking.
Faster, faster.
It fails and crumbles in.
Fall through, fall through.
Under the cold only I can endure.
Not you.
Little light shines through the glimmering surface that draws you in.
It looked stronger.
It looked stronger.
Unwished for?
This, or me?
Starting from the outside, you freeze.
But I'
I am still moving underneath.
Farther and farther.
Beneath the cracking ice, my fears, that prevents me from flowing'
Freely.
Holds me back.
The ice is melting.
Melting.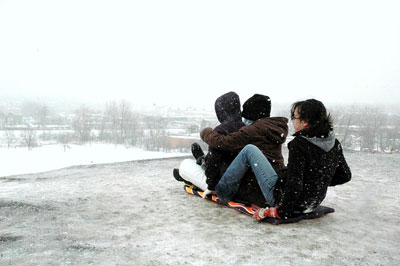 © Seita O., Palatine, IL