Full Moon Love
February 19, 2009
Full Moon Love
Written by Brittany Copeland

The water glistens in the pale moon light,
The surface oily before our tired eyes.
Our hands are entwined, slowly working
Their way to the sandy shore
While our eyes stay looked into each other's
And the rest of our bodies follow our hands.
You caress my hair
While I gently run my hands through yours.
While we say nothing out loud,
We know each other's thoughts.
We must have been sitting on the edge of this beach
For what must have been hours,
Though it the felt like seconds to our aching hearts.
The light of a new sun rise is beginning to grow
On the eastern horizon,
And the birds are beginning to sing
We are loathe to leave the safe haven of each other's arms.
We are loathe to leave each other so soon.
I sigh and whisper to my love,
'I love you.'
You sigh and whisper back to me,
'I love you back.'
We slowly stand and hug and kiss,
Then go our separate ways,
Both hoping that the month will pass fast so that
We will see each other during the next full moon.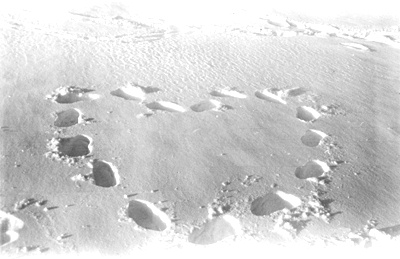 © Kim B., Marblehead, MA