The Outsiders
December 17, 2009
In the stadium of ice
Stars sang to the crowd.
Their voices leaped from the stage,
Our shrill screams vibrated
Through my ecstatic body.
Sitting so close
I could feel the song.
My eardrums beating
To the rhythm of the music.
All I wanted
Was to meet my new found obsession.

Standing outside
Waiting for them to arrive.
To give one smile,
One wave,
One flick of his pen,
Would forever change my life.
The raindrops waited to fall
On the cusp of my eyelids.
Waiting to see
When that heavy glass door
Would be pushed open.

It was summertime
But the cold air danced around.
I turned my head
To see the crowd.
Just as anxious, or even more so
Than I imagined
People leaping from heights
Screaming at the top of their lungs
For hours on end
Waving posters
The madness seemed to be never ending.
The chaos spread endlessly
Out of my line of sight,
But two teen girls
Contradicted my assumptions.

Dressed in black
These girls were still.
Not anxious,
Not frantic,
Not chaotic-
Just still.
The stood silent with their
Charcoal umbrella,
Which shielded them
From the rest of the crowd
Somber expressions
Were painted across their
Youthful, yet aged faces.
Standing on the base of a lamppost,
Yet they appeared to be
Empty of light.
Their dark eyes glared in my direction,
I turned away.
Lifting my camera,
With both shaking hands,
I snapped a photo at those two girls.
Nervous to their reaction,
I hid in front of my mother,
Wanting them to forget my face.

Two hours passed
Waiting in front of that arena.
With hope escaping from the crowd,
Second by second,
My faith was drifting
As a raft in the ocean,
After a harsh storm.
A tall man,
With graying hair.
Stepped outside the doors.
Our minds once again fooled,
In the hopes that our idol
Had finally come.
His opaque glasses,
Removed from his face.
He told us the news,
That we had waited here for nothing.
My shoulder was pulled in the other direction.
Ready to go home,
My night was broken.
On the lamppost,
The girls disappeared.
But their black umbrella
Was left behind.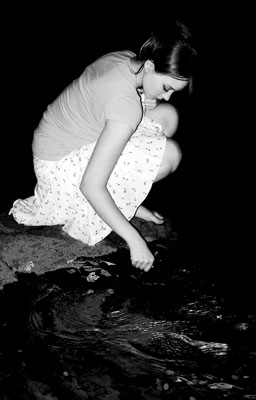 © Michelle B., Blairsville, GA