Knock at the Door
May 8, 2010
It had been eight months since He'd been fighting in the war
And everything changed when she received a knock at the door.
She quickly opened the door to see two men in green,
And right away she knew exactly what this could mean.
Her first thought was to shut the door, cause she didn't know what else to do,
But before she could react, a Marine spoke saying, "we have some bad news,"
She motioned to the couch, for she could not yet speak,
Her mouth was motionless, her limbs weak.
Slowly she stepped aside, her feet having a mind of their own,
"Thank-you ma'am," said one as they entered her home.
"You should sit too," said the other attempting a smile,
Something she hadn't seen in too long a while.
And so she sat starring straight in their guilty eyes,
They had hardly spoken and already she began to cry.
About fifteen minutes later, they finished their story,
A tale of a man of true honor and glory.
But this tale had a tragic end,
In which these two Marines lost a friend.
"We're so sorry for your loss," was all they could say,
But no words they spoke could ever take the pain away.
Still she was confused, not wanting to understand,
"We just want you to know, your husband was a brave man."
Through the tears she nodded, chocked up inside.
Why o why did he have to die?
Deep down inside, she wanted them to leave,
But that wouldn't make it any easier for her to grieve.
Oh why couldn't they go away? Why did I open the door?
If only she knew that she'd receive a visit from these two men in the Marine Corps.
She fell to the floor; she couldn't control the tears,
As her mind thought back to all the wonderful years.
And as quickly as they came, the good memories left, perhaps forever.
Because she then realized that they would no longer be together.
Then it hit her for the first time that day:
He gave the ultimate sacrifice, the full price that had to be paid.
So in her hand they placed a shiny medal of purple and gold.
Never before had her hand felt so heavy. So cold.
Knowing she needed a moment to think on her own,
Gone were these two men in uniform.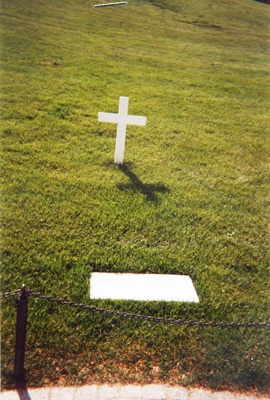 © Whitney T., Glenpool, OK