Mother's Call, and Daughter's Answer
November 25, 2011
Mother's Call


My daughter, my daughter why did you run to

The prince in his palace with ambers and rubies;

His golden ring glistening in the sun?


My daughter, my daughter what did you find there

By the prince's side other then guards in helmets;

With sparkling lances and chain-mail?


My daughter, my daughter where did you find

The prince in white furs and silk gowns;

Of purple and red with more jewels like jade surrounding his neck?


My daughter, my daughter how did you get

To the prince and his castle in a carriage of gold, that was sent by him;

Or did you walk for thousands of hours with no hide on your feet?


My daughter, my daughter when did you go

To the beautiful prince, maybe out at the sea-side;

Did you leave right in front of my eyes, or was I away?


My daughter, my daughter who did you go with

To the prince on his throne served my maidens with platters;

Did you go with the postman, or did you take the journey all alone?






Daughter's Answer


My mother, my mother don't weep one more tear.

Your theories are lovely, and I wish they were real!

My body is buried in a flower meadow

out where I used to play and sing;

But still I hear every all that pushes from inside you.

My soul is carried every place you go.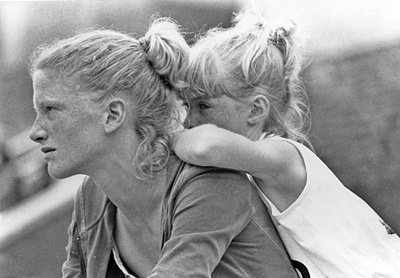 © Felicia F, Marlow, OK