Wait or Fade
March 12, 2013
The world fell down on my head,
Knocking me to the floor,
As it caved in and my heart exploded,
I heard misery's knock at my door.

The lights flickered and fell
So that the darkness was inside and out,
It crawled through my pupils and my nose,
Closed my throat so I cannot shout.

The floor gave out and I fell so far,
My knees tucked in to my face,
As I dropped, my stomach came out of my mouth,
And repositioned itself in the wrong place.

The screams erupted and tried to break,
All the glass and windows in my room,
But I'd fallen so far that the screams stayed in,
And I remained, all alone in the gloom...

The pain was so great that I could not stand,
Nor try to climb all the way back,
To the place I once was, full and alive,
The pain put me in its burlap sack

And walked off as I screamed for someone to hear,
For anyone to save the poor girl,
Who'd fallen so far from her home, and so fast,
And thrown up the last bit of her world...

But survival kicked in and I shut myself up,
I took twenty minutes and I cried...
But then I clammed up, put my hands on the wall,
I am climbing, but my heart, it died.

I will not stay here, nor cry till I can't,
I would cry until no one would hear,
I refuse to lay here, wasting away,
I will not become victim of fear...

But the pain is still there in the corpse of my chest,
As I climb up, refusing to stay...
My darling, I'm dead, but I'm not looking back,
You killed me, and my heart today.

My heart will stay dead until you return,
Knowing the mistake you have made...
I will wait for your love to match that of my own,
or until my own love, it does fade.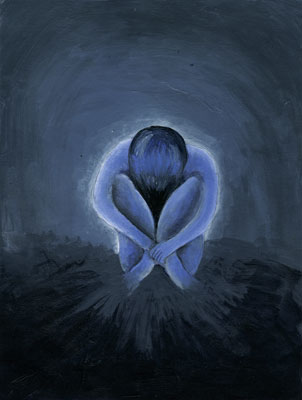 © Becky F., Sacramento, CA