Ballad Of The Sand
May 13, 2013
I flow on this beach with joyous glee,
As I'm comforted with some queer company,
A sly, clever crab crawls next to me,
The sun shines bright, we hardly see,

"Vasta! Vasta!" The strange crab yells,
As we race the beach sharing glorious tells,
Tells of old kingdoms, tell of the land,
Tells of the creatures, once waddled this sand,

I trip onto my hasty grain,
The crab runs off, he hears no strain,
The waves come yonder, hell and high,
Water covers the great blue sky,

Chokes poke through the grimy sand,
I'm covered up, blend with the land.
This is the destiny of me,
For I flow as sand, then sink the sea.

I wish I could keep running with my crab friend and the foam,
But I'm afraid that cannot be, for I always return home,
This fate I have is rather grand,
But sometimes its sad to be the sand.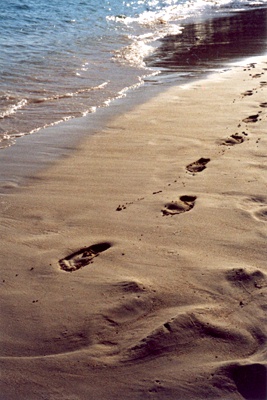 © Ashley B., Potomac, MD