Black & White
December 2, 2013
To them
Everything is black & white
Wrong or right-
But there seems to be
A lot of gray area
In this picture.
Even the bold plaid
Printed sweatshirt
Seems to let the lines
Melt off his chest
Into each other.
A gray couple,
Like two clouds when
It's about to storm.
Her hair is curled
Like cumulus~
Her smile is the bright lightening
Sparking out.
He hides under her
& all her glory,
For this is her gray storm,
Her black and white picture:
He is nothing but a prop.
Squinting his eyes,
He tries to smile
In a way that doesn't
Distract the camera
From her lightening
Piercing
From her smile-
She is so happy.
She is so very happy
To storm today~
For her black and white picture
That isn't really
Black and white
But gray,
And as the rain
From her storm mixes
With the tears on his face
They smear the colors
Of her picture.
Black seeping into white
White dripping into black
It gets darker
Darker
Darker
And she sinks
Down
Down
Down
& he will fall with her
In her black and white picture
Of a boy
Starting
To drown.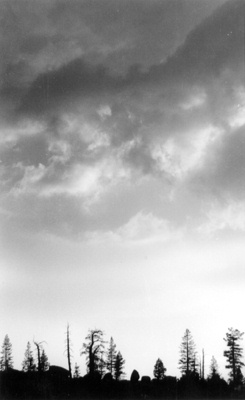 © Steve S., Marblehead, MA