In December
June 17, 2014
In December, far away,
weeping for the month of May,
drowning in a doom so deep...
snowy nights in my sorrows sleep.

In December, spring amiss,
feeling fire at winter's kiss.
Fleeting April, gone July.
Do you hear the darkness cry?

In December, dreamt my tears,
all but common in these years,
"Where is Venus' striking sky
in the golden by and by?"

In December, silent rain
falls upon my window's pane.
Do not sunrays pierce the veil
of the pounding, beating hail?

In December, tire my eyes
of the hardened hate I do despise.
A passing day refrained from mirth,
another week subtracted mirth.

In December, my soul quakes.
Seldom friends the silence makes.
Gleaming dewdrops cloud my mind
The past is not a patron kind.

In December, sunlight broke,
lightening me my burden yoke.
Right at dawn and true 'til dusk,
December's wintry, wintry musk.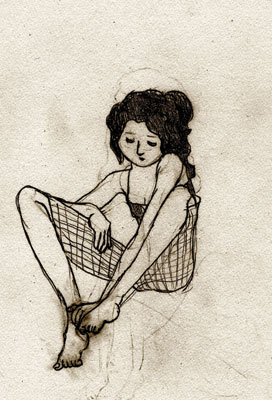 © Samantha W., Albany, NY