Garden Of God
August 16, 2014
The waves are rising
The sun is setting
The wind is in a tussle
There's a soft rustle

The God is in the wake of embellishing the world
The commands have reached
The prayers have been preached

Nature is on its work
It has cast the spell to bloom another creature

The silver oak is bowing down to enshrine the blossomed.

Her birth has emblazoned the planet
A glyph of love, purity and divine
Her womanhood has adorned the Garden of God with her posterity

A symbol of beauty she is
The passion of world is in her
For she is an angel, an affectionate mother, also a sincere lover.

A holy symbol, a solemn worshiper
Yet a timid dame she is
For the Garden of God has little spring and
The poor soul has no wings.

Garden of God is now a barren land
This is a dungeon full of beasts
Where a goblin is the king.

Goblin and his men have debarred her,
Banished into dark chambers of bitter ethics and culture
She lays there ignominiously placid.

Little freedom was her desire
But those savages have put her every wish on fire
Enslaved she felt, more tarnished and a token of satire she became.

But the wickedness of nature grew longer and stronger
Unsatisfied Goblin wanted to show more of his power
The knights were ordained, the hungry beasts were sent...

She was licked like a meet
She was kicked by their feet
Ripped off was she
Silent she lays, a rag doll.

The beasts had huge joy
Contented they were playing with the toy.

Tears now rolled up the dead flash
Her cheeks turning pale
Sombered by every male.

The agony was wild
Yet the world remained mild
Her cries were soaring
The heaven was mourning
Yet the world had no roaring
For the fear of beasts was stronger than her tears.

The silver oak shook again
There was not another whistle in the air

The angel of death vapourised
Floating with her was the victimized

The roses shrivelled, the pine woods withered

Beauty and beasts can never mingle
The Garden of God has frozen
The goblins are still chosen
The land of evil has crowned the new devil.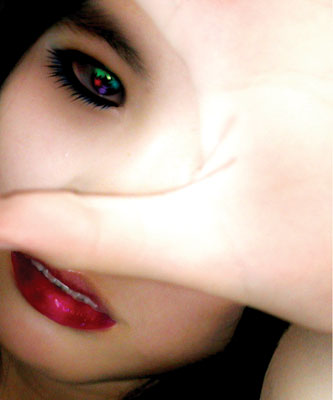 © Victoria W., Arcadia, CA