Journey
June 2, 2015
It came so quickly to the end,                            
When push comes to the shove,
The mighty sailor leaves to serve,
His nation and his love.
He pulls her close and holds her near,
The day has come to send,
He kisses her so gently,
I'll see you in the end.
Two months of no contact for them,
The agony can show,
It's been a week of terror yes,
One week down seven to go.
A suprise came to my rescue yes,
A call from him to me,
The call was short but all they need,
I Love you was the key.
The journey is not an easy one,
The time is soon to come,
That in the end i'll be with him,
They say that I am dumb.
I love him oh so much I do,
I miss him even more,
To think of all the times we've had,
it's like an open door.
In early June we will reunite,
The happy day will near,
But for now I have to sit and wait,
There is nothing I should fear.
We write not often as we like,
And that is not our fault,
He only gets mail once a week,
It's the small but bad default.
I love it when I hear from him,
My heart gets filled with joy,
They make me think it's not that bad,
He is my sailor boy.
I smile when I think of him,
We lost all sense of time,
The days are slow but also fast,
The bells, i hear them chime.
The journey has it's twists and turns,
Important things he missed,
Like when my sister got confirmed,
His regrets were in the mist.
He missed me shine just like a star,
But I know it for the good,
when I see his face i'll shine right up,
And that I could & should.
I have never felt this way before,
I am head over heels,
This feeling never goes away,
I really like this deal.
The day that I will be with him,
The thought is my close friend,
The day has finally come to light,
I'm with him in the end.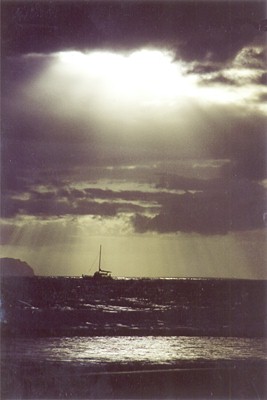 © lily H., Kekaha, HI