Sober Southern Sailor
June 1, 2015
Hello,Lye down that gun young fellow.
Don't turn it to your head, so that you may go to havean with the endless yellow.
Boy, I think you aughta have a sip of this drink.
For you haven't had the right mind to think to blink.
Boy open the door!!
Then my soul will sink to the floor,to tell ya more.
This ain't the type of meeting you adore.
Leave it to me I'll help you find the shore.
Not you, not nobody can see from this far;not where we are!
Don't listen to him!!
All he sees is the night sky lookin like tar.
Shut your pie hole!!!
I've been sailing these seas for 40 years, an I have come across worse fears that brought tears.
Turnin an guiden this ship like a child.
Boy I tell you these seas ride wild!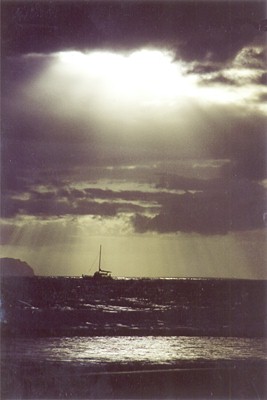 © lily H., Kekaha, HI