Ghost of Winter Rose
August 13, 2015
Winter will come from the west.
There lays the ghost wearing the white dress.
She is no less brave an no less gental.
Images of a twinkiling star;seeming near but dangerously far.
The ghost rides to the heavens to dwell among the clouds.
She looks beyond the sea where paradise awaits.
She looks for mysterys in medows an night life in six-inch sceletos.
I seek the hollow tree that inspires me.
That tree has seen war.
Early european folklore.
She could tell the tale of the dinosour.
She has been threw the battles of Hannibal, Alexander, an Khan.
Who's storys are known far an beyond.
When she goes among her foes she is aware of their egos.
Aware of the way the wind blows.
Judgeing the day by its ebs an flows;knowing its highs an lows.
And so, the ghost of winter rose.
From where no one knows.
From the brewing colds of winds; to where legands begin an where journeys end.
That is why I seek the hollow tree that inspires me.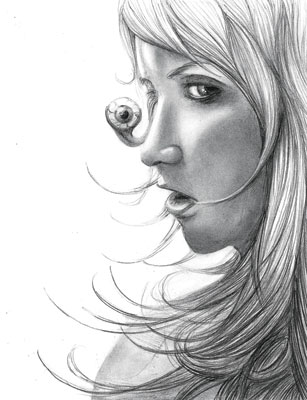 © Jessica P., Bethel Park, PA