The Orange Tree
December 12, 2015
Lay thy head upon my breast, gentle soul,
That I may rest my weary eyes upon your hair
And take in the scent floating from thy neck.
Turn thy head, and face me with thy brow,
So I can weep at the beauty of thy raven eyes,
Caress the plumpness of thy sanguine lips
And do naught but that, under the orange tree.
The rasp cricket sound does not disturb me,
So tranquil that I am to hear thy soothing breath
And feel its pleasing softness 'neath my cheek.
The heat of summer pervades the air
But thy heat covers me from the envious tyrant sun's,
And it is better still, for it is thine,
Ours, now, beneath this fragrant orange tree.
But the tyrant's reign ends in orange hues,
Bathing us in joy as the lark ascends the skies
To serenade us in our peaceful love.
'Lo! The warmness is fading all round,
And as my hand seeks for the repos'd shelter of yours,
It recoils! Thy clement warmth has left thee,
And all is dread cold by the orange tree.
Thus, my eyes hast'ly wander upon thine,
But therein, though I see black, I find no warmness,
But lifeless orbs of depths most abysmal.
As tears fall upon thy marble brow,
I clasp thee round mine arms and kiss thy now pallid lips,
And as the shade of night falls upon us,
I weep for thee, dead by the orange tree.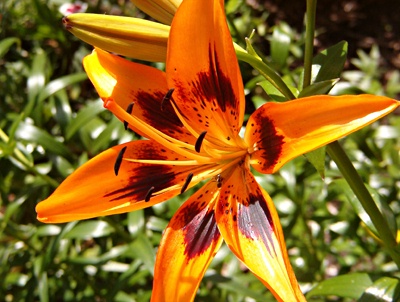 © Terrin C., Humboldt, IA