The Writer
December 16, 2015
The Writer
There in the gloomy room sits the writer.
His ideas grows the dark as the candle glows brighter.
He has no words written down, nothing to say,
Until his conscious comes, kicks into play.
Alright, we got time before the sun comes out
To figure out the poetry you want to right about.
Thanks but I've been here for over a while.
I have plenty of ideas but can't figure out my style.
Hmm, you're right, how bout let's review,
On all of the poetry you can probably do.
A song, limerick, free verse, sonnet or haiku?
Does any of those sound interesting to you?
Let's see about the limerick
So that the rhymes will stick.
Yeah but it sounds like a children's song
That I use to sing along
Back when I was six.
Hmm, there's something we're forgetting,
Always one thing that's seems to be missing.
Well if you can't do a limerick,
Why not try song lyrics?
You meant for people to sing?
It could be a song, be a song,
But that's a lot to write.
It could be long, could be long,
But I don't have all night.
You think wrong, you think wrong,
I don't have any time.
You think wrong, you think wrong,
Couldn't figure out another rhyme.
Alright, forget limericks, try this one.
A sonnet, ten syllables in a line.
Maybe not, it doesn't seem any fun
For 'ambic pentameter and slant rhymes.
Do you really know what sonnet was?
Or where the most famous ones were ev'r done?
Oh, you mean the sonnets that Shakespeare does?
Those ones, which mean all the good ones are gone.
Besides, it's too much work for syllables
And I don want to always count to ten.
This is taking too long, so miser'ble.
It's over, I am putting down my pen.
Hold on, wait a second, let's try the next.
Fine but I hope it's better than the rest.
It could be a song, be a song,
We already tried this.
It could be long, could be long,
Wait is this the chorus?
You think wrong, you think wrong,
This is taking too much time.
Let's move along, move along,
What do you have in mind?
Why not a Haiku?
The one with the syllables?
No one wants to count.
It's just syllables,
Yeah but there is a limit,
Such a small amount.
Then try free verse, let emotions flow
Through each line-
Like a waterfall.
Paint a picture in the minds of readers,
Let the words control the poem.
Yeah, no thanks, this seems to easy.
Almost everyone does this nowadays.
And besides, why make a poem so grand
If it doesn't rhyme and sounds kinda bland.
Forget it, I'm done, can't you see?
I don't have anything for you in poetry!
It's late anyways, I need to go to bed.
In the morning, I'll write fiction instead.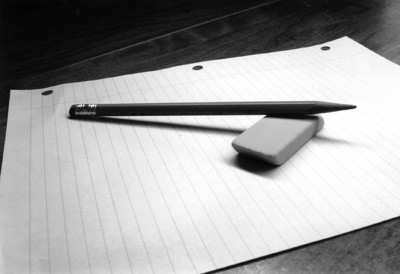 © Michael H., Mildford, CT