You Were My Friend
July 27, 2018
You were my friend.
For 14 years.
You were my friend.
Through
Elementary,
Middle,
And high school
You were my friend.
I was there for you and
You were there for me.
Through breakups and
Those deep conversations
Through family issues and
Those damn medications
We knew
We'd always be there.
We didn't always talk,
But when we did it was important
We didn't know the other person's pain
But we knew what the type of pain
We knew how much it hurt
How indescribable it was,
And
How bitter sweet it felt
To know someone understood
It was the type of pain we felt
over and over
And over again
We weren't always helpful,
You were always the more toxic of the two
For you, I would lend an ear, a hand, a heart
For me, you lent a drink, a pipe, assault.
I didn't ask for anything that night.
I only wanted to see my friend,
have a drink, and relax.
That's all I wanted.
But,
You seemed to want more
You seemed to think that
It was fine
That I was too intoxicated to move
You seemed to think that
It was okay
to do what you did.
To reach under my bra,
To grab my breasts,
To move your hands further
And further down
My paralyzed half-clothed body
Until you got to my pants.
There, you carefully slid your fingers down,
Even slower than before.
And asked me in the creepiest way if,
I wanted "to have some fun".
I didn't.
The whole time, my mind was screaming
For you to stop
For you to realize this wasn't okay
I wanted to fight
I wanted to run
But I was frozen
And you kept grabbing,
And kissing,
And flipping me over
Every time I tried to turn away
It took all my strength to try and move
It took all my strength to mutter
That one word…
No.
If I didn't have the strength to say no
To that hand down my pants
If you didn't decide to move your hands away…
You would've raped me.
Ever since that night,
I haven't been the same.
I had trust issues before,
They're even stronger now.
I can't live that college lifestyle anymore.
I can't relax without fear.
I can't feel free because I still feel your weight on top of me.
I still feel trapped, struggling, and barely able to mutter that one word…
No.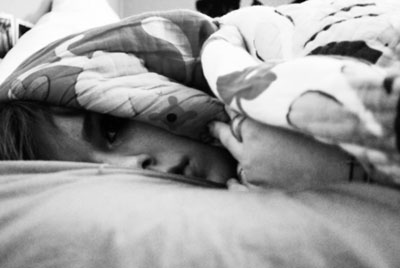 © Erin H., Carrollton, TX