Let The Wind Blow
December 15, 2018
The summers sun is receding,
Falling away drip by drip.
The blooming roses are wilting,
Falling still on the brown soil.
A cold air comes in,
replacing the summer's broil.
The sky's getting darker,
ANd our jubilant moods grow a tad damper.
The wind will start to blow,
And we'll have to pull our blankets higher,
And snuggle up a bit tighter.
The rain will continue to soak,
ANd the flurries of snow will begin to descend.
Winter coats we will don,
And warm boots will protect our feet.
The sun will come out, we know.
Soon, the flowers will start to bloom,
And we will hear the sounds of children laughing,
As they romp through the sunlit streets.
Now,
Catch some snowflakes, feel the coldness against your tongue melting away.
Close your eyes when the wind blows,
Love the feeling of frostbitten toes and wind-whipped cheeks.
The wind whistles, and to me,
it's nothing but the greatest sounds of music, lifting me high into the sun.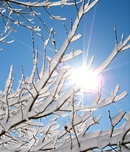 © Barbara S., Hoffman Estates, IL