The Pull Of Opulence
January 13, 2021
I flickered my lighter as I walked in the frigid cold.
I liked the way the fire glinted on the fresh white snow.
The unforgiving wind howled, I had nowhere to go.
All of the large house's windows had a warm, yellow glow...

Except one house had windows that were all a dark, pitch black.
It was humongous, three stories tall, I stopped in my tracks.
I pondered about the inside, I was taken aback.
What if I just took a look around, would it be that bad?

So I anxiously picked the lock on the house's back door.
And I had expectations, but god, this was so much more!
The priceless art and statues, the satin carpeted floors.
It was way more than anyone could have ever hoped for.

I nervously flickered my lighter as I walked the halls.
I should have left but the house's beauty had me enthralled.
the sound of breaking glass caused me from my thoughts to withdraw...
The room was far too dark, for me to see the bottles fall.

But nonetheless, I was startled by the sudden loud sound.
The lighter that was flickered on was falling to the ground.
Before I knew it, on the ground lied a bright, growing flame.
I wanted to do something, all I did was scream god's name.

I knew I needed to escape if I was to survive.
I didn't have it in me to think, even though I tried.
I hoped and prayed that not a soul would hear the monstrous clash,
As I threw a priceless vase against the window's thick glass.
Alas, I,
Wanted it to stop
The pop of fire
Seared into my brain
A deathly drop
In my stomach
My head ached in pain
Father, I refrain
From my horrid sins
I was curious

Curiosity

It's the death of me
I wanted to see
What's it like to be…
Living in luxury.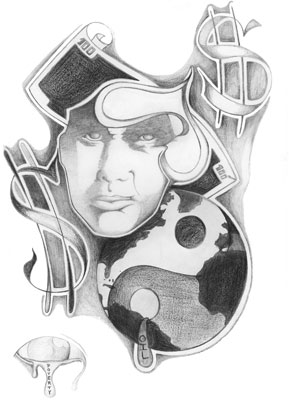 © Kevin M., Miami, FL