Snakeskin
September 12, 2009
I slough off my top layer of skin.
Slowly, deliberately,
I slip out of it,
Revealing the real me beneath.
The outside was only a facade.
The world raises an eyebrow,
One tiny gesture calling me a hypocrit.
For I've claimed to never be fake
And I'm most assuredly not,
Or so I think.
My top layer was only protection
And besides,
Aren't we all contradictory?
My excess cells I leave behind me
Without looking back.
Like a snake I've shedded my skin,
But a new layer will inevitably begin
To grow and cover this naked me,
So vulnerable to verbal attacks.
Yet for now,
I am confident and self-assured.
My little act of rebelliance strengthens me
And I walk with a swagger
For all the world to see.
For I am me,
Unquestionably, irrevocably
Me.
That is,
'Til my confidence weakens
And my soft body's bruised
By the stones that they throw
And the looks that accuse.
'Til I am forced to add that layer,
The top layer that hides the truth beneath.
'Til I have to build up the esteem
To slough my skin off again.
'Til then I am me
And I am free.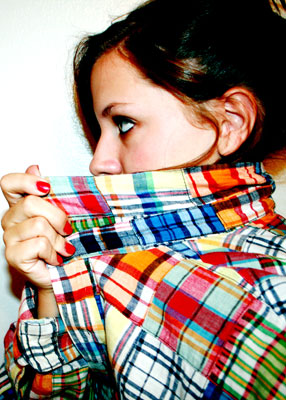 © Brooke C., Cut Off, LA