Strangers In My Place
September 25, 2009
Dingy brown bricks hug each other, holding the complex together.
The moving boxes have gone and strangers fill my memory, swinging in my tree.


The carport is housing a stranger's Honda and my chalk masterpieces have long since bled from the driveway, I have been missing this place.


Branches standing their very tallest to touch the sky, and branches reaching to taste the ground, I climbed that tree. It's my tree.


The carport is mine too, the Honda used to be a Ford and the oil stain has faded.
The garbage cans should be on the left, never on the right.


I grew in this place. I was planted and watered in the window to the left. My room was the best in the castle.


Loneliness was always whispering in my closet after school. My mom was at the bank counting and the lion kept me company.


In my room beasts roamed, consuming paper, and monopoly games were played with stuffed friends.


Gleaming sticks of mozzarella with waterfalls of stringy cheese hair, and chairs clothed in circus tent blankets filled my days.


Flat boxes on the wall reflecting a five year old me to a "now me," the hallway was filled. My mom was trying to preserve my youth in the glass.


My mom had hot ivory curlers rolling through her chocolate hair every morning, while I swallowed cold cereal.


A Banana Yellow cape offered shelter cocooning me from the rain dancing in the gutter. I always had to touch the grey river.


Potions, creams, paint. Berry stained hands made magic, magic my mom never understood. The sun shed my old skin replacing it with wizard brown.


Clicking monsters spewing icy water spun like tops, their spray chased me every summer afternoon.


White clouds of popcorn swam in golden butter waiting for my adventures to end, the kernels stuck hard in my gums.


This is my place, strangers shouldn't be here.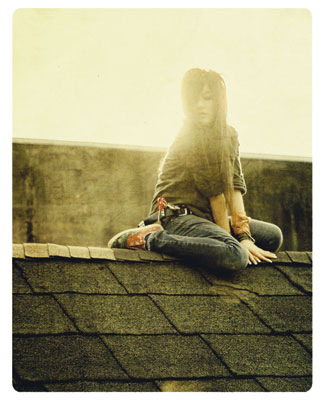 © Hailey J., Lake Oswego, OR