Hurt Me
September 28, 2009
If you could see,
What you do to me
you'd understand why I cry these tears,
and shake terribly from all my fears.

I don't want to loose you
But, you make it to where I have to go
so far from this place
so I can't see your face
with your fake little smile
I'll be gone for quite a while.

You said you loved me.
Why did you lie?
Was it that hard?
You said we'd be together,
forever.

Baby, I f***ing love you
but your just the same.
You play this like it's a game
I'm real
I have feelings
and a heart
that you stole from the start
and now we have to be miles apart.

I won't blame it on myself
I won't let it tear me to pieces.
Yes, I'll cry
Yes I'll beg, pray, and plead to die.
But, I'll always be thinking of you
and this you already know
So, from here on
I'll let you go.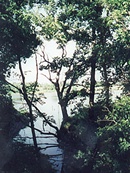 © Jennifer A., Plattsburg, MO