Silent Plea's
October 9, 2009
Do you hear my silent screams?
Or do you only hear what you want to?
You see my pain, but you choose to feed off of it
Rather than correct it.
Do you understand how many stripes you have put on my fragile heart?
You have tainted my precious memories.
And you have stained my one and only mind.
You have put a mask on who I truly am
And you only believe in what you know isn't true.
Your mentality is that of a monster.
Of a vicious beast.
Upon my shoulders, you have laid many unnecessary burdens.
To weaken me;
To turn me into you.
I tell you now.
I will never be you.
As long as I have God on my side, so help me, I will never be you.
You can tear me, rip me, and pound me to your hearts content,
But I know that I will be the victorious one in the end.
For I see past the walls that you have surrounded yourself with.
I see your weaknesses.
You have brought me down to the point of sheer madness.
It is at that point when I surrender to my knees and pour my heart out
Into the lap of my Savior
I release my anger
My fear
My frustration
My exhaustion
But most of all my hatred
I don't want to hate you.
Please don't make me hate you.
You are supposed to be there for me.
Instead, I run from you.
It is at this moment, that I stop running.
I turn to you and say
You have tormented my mind, body, and soul long enough.
I will not allow you victory over me.
I refuse it.
But most of all I want to thank you.
For it is you who have put me through this.
And it is this that has made me who I am.
You have showed me exactly what I am not.
And exactly what I don't ever want to become.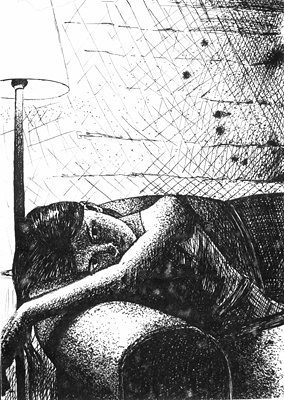 © Elisabeth R., Elmont, NY