His Rose
November 2, 2009
I am a rose crushed in between the merciless gears of his heart.
My delicate petals are torn and squeezed; my sweet scent is obliterated under the force of his abandonment.
I am left a cracked and dry stem, my thorns falling off with pernicious defeat.

All that we had was so beautiful.
Sanguine memories battle for my focus; they slowly lose their optimism and resort back to their natural drip
I stand in their puddle, the dampness seeping through my shoes to my feet where it will fester and eat away at my base until I can no longer stand it and fall.

And yet he still smiles, he can turn those corners of his mouth I once so desired upward still,
My presence makes them plummet.
"What's wrong baby?"As if he didn't know.
Didn't know the pain he put me through, waiting all day for him to surprise me.
A rose, other flowers, a box of chocolates, a ring, even just acknowledgement and a kiss would have been enough for me. But no.

I went the whole school day without hearing him say a word about it.
I started to lose the luminescent hope that he was just waiting to surprise me with something bigger later.
There was still time for him to take me out to dinner; to appear on my door step bearing his love in the form of tangible gifts.

But the hours went by.
The possibility of a dinner for two came and went.
I waited by the phone, but he did not even call to reassure me of his undying love.
He did have a lot have a lot to do that night. Running in circles at football practice, completing the last steps of a physics lab, making up an English paper, and "studying" for a couple of tests But there should have still been time for me, the light of his life, on our special day.
It was, after all, our three week anniversary.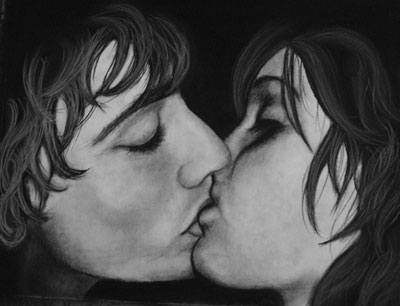 © Anna Y., St. Robert, MO