Flying Blue
November 2, 2009
I'm smitten, and I don't know what to do
Every time I look at you,
I stare too long
Your eyes are hazy blue
And I'm starting to feel high
When I'm introduced to your friends
That twisting hair,
Over your eyes,
Those ocean skies,
It has no ends,
The girls are crowding round
You're laughing, waiting
Watching me:
"Hey, you."
Those girls step down
I'm so glad that you've found me.

Aquamarine surrounds my thoughts.
Now you look so free
And warm:
I want to run into your arms,
But most of all be yours
I can't stop spinning round
When you lead me to the floor
You'll tip me backwards,
Bend me more,
I can't pretend this anymore
The scene transforms
A horror flick
And a scratchy old t.v.
It's so warm now
Chilly breeze
Your hair is slick

I am at ease.
"Hey, you."
All the girls, you know they're crying
You know they're whining,
You know they're spying
But I just see your baby blues
And now I'm flying:

In your teal-filled sky,
Your amusement park of blue.
The girls ask why
As I whiz past:
I suppose that's up to you.

It's getting late,
You'll fly me home
And kiss me at the door
You know those girls are spying,
Lying,
But we can't see them anymore.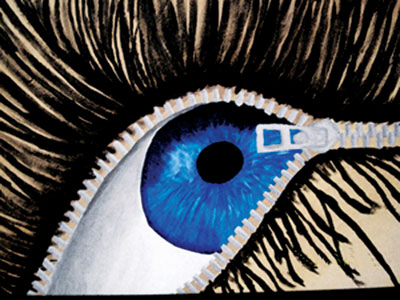 © Brad S., Lecompton, KS