A Story Etched In Marble
November 3, 2009
Walking up and down each row, she searched for his tombstone;
Besides the wind and the trees, She was truly alone.
Then she found His name, Etched perfectly in white marble;
Glancing at what was written, She began to marvel.
Sitting down against the tombstone, She gently laid her head;
Picturing His death caused some tears to be shed.
Just by reading His name and rank, She could see how he died;
Unable to control the tears, She forcefully closed her eyes.
So with closed eyes she saw every moment that passed;
From the beginning of the battle, Until He breathed His last.
It started with His squad searching the people and the town;
The day was half past over, And anything bad had yet to be found.
When suddenly some villagers Rallied and opened fire;
The need to act fast to survive, Had never been so dire.
In a moment, the Marine on His left suffered a bullet to the chest;
Three seconds later, he was finnaly at rest.
His officer began to give an order, but was interrupted by a grenade;
His balance was disrupted, His hearing and vision began to fade.
Down on His knees, a ringing noise filled the air;
The pain from the wounded, the fear of the innocent, all hung open and bare.
The ringing grew so loud, His head began to ache
observing the chaos, It was clear that a decision had to be made.
He was now the last Marine standing, surrounded by a foreign enemy;
The loneliness dwelling inside Him produced a feeling so empty.
To surrender He could never, But victory was near lost
Remembering that He fought for freedom, He knew what it would cost.
Slowly He uttered a prayer, Gracefully He pulled the pin;
Thinking about His family and country, He bore a slight grin.
On the dirt amongst the shrapnel and bricks, His broken body lay;
Sacraficing all He could, He gave the full price that had to be paid.
So with a blink she opened her pale grey eyes;
Every second took an hour to pass by.
Tears fled down her face and onto the tombstone;
Besides the wind and the trees, she was truly alone.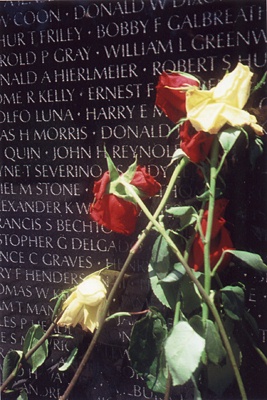 © Justin R., Angola, IN