The Beach
November 6, 2009
I could smell that bitter ocean air twenty miles away.
And even if I was blind, I could hear the waves and the kids smiling.
I could feel the salt and the laughter.
I could taste the lemonade and joy everywhere.
But those sights around me:
The ferris wheel turning like a large wagon wheel.
The sandcastles and pits in the ground.
The umbrellas and blankets and sun tan lotion.
The guys trying to be all that.
Girls too skinny for their bikinis.
And even if I was blind, I could sense the time rushing by.
The dolphins and boats so far out into the horizon.
I could see, with my mind, the footprints left in the hot sand.
The waves rolling in and out as the sun sets.
The visitors soon pack up their things.
Go back to houses, restaurants, hotels.
But I will stand there, unable to see the colors in the sky.
I can picture the purples, the pinks, the reds.
And then there is nothing.
Nothing but the calming waves rushing along the sand.
Eating the sandcastles and filling in the pits.
The sun is gone, the moon has come to shine.
Another day is done, tomorrow is near.
A perfect paradise.
On the beach.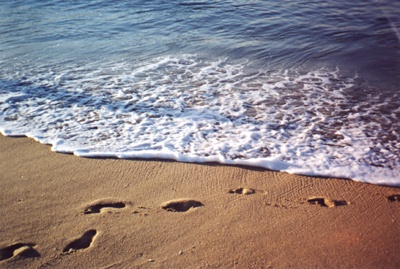 © Daniel M., Phoenix, AZ