The bus ride
November 10, 2009
Here we sit –
Another boring bus ride
Just you and me
Our legs touch, our eyes lock
I sigh, you laugh.
You turn the volume up on my Mp3 player
And the ride continues

Your head on my shoulder, again
You start to fall asleep
But I can't … I pull your sweatshirt tighter around my body
And I watch you sleep
You look so dreamy, so beautiful, and so hot
We go over a bump …our relationship is used to them
You sit up
We start to talk, which turns to laughter
It comes so easy -me and you.
As we get closer to my stop
I wish the bus ride would never end
One more song-
One more road-
Your favorite song comes on
We begin to sing and dance
You stop and say it reminds you of her
I remember …Oh your love of your life, your girlfriend
As the last seconds pass
I gather my things

Give your sweatshirt back
We hug …and I wish it were a kiss
As I step of the last step
I turn and look at your window
Your head leaning on it
I sigh
You look dreamy, so beautiful and hot
I sigh and begin to cry
Wondering why we were never something more ?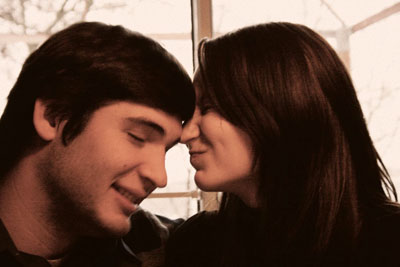 © Hannah L., St. Louis, MO