It's What You Do To Me
November 26, 2009
Suddenly... I can see.
I can see every color, but more,
I never knew those shades, those palors until now,
I had never been introduced to such vibrance....
How did I describe life without them before?

Suddenly... I can hear.
All the music in the world sings to me,
the notes carry me, as I am lifted by their melodies,
There is not one note that i can't hold.
The harmonies are so vivid, so close, so many,
How did I sing with another voice without these notes before?

Suddenly... I can feel.
the suns rays penetrate the once terminal cold,
No longer do I shiver from the cold hands,
The icey touch of civilization cannot hold me,
How did I survive the nights without this warmth?

Suddenly... I can breathe...
I had forgotten what deep breath felt like...
For so many years, shallow breath has hidden me,
Now as I breath in fully, I feel whole,
Each breath fills the hole in my heart,

Suddenly... I am alive.
I can sing with the birds, rather than envy them,
I can laugh like a child at the simple joys,
I can smile, and I do mean the action,
I am able to love again.

Suddenly... I can dance.
I can hear the rhythm which has escaped me for so long,
The drums beat that drives my movements, my life.
The pulse, the steady thrumming that I live by.
I have found it again in your heartbeat.
Your breath is the rhythm to which I dance.
This endless music that stirs me...
Oh how beautiful a song it is...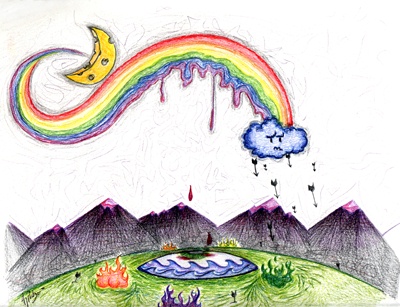 © Alexa P., Ridgeway, PA