Tragedy
December 14, 2009
Deep within the crumbled walls of Rome
Walks several dark figures of a conspiracy
And on the streets of cobblestone
Their voices are hushed whispers in secrecy.

They plotted harm against oh Great Caesar
A man of courage, love and strength
His personal ambition imposed as a threat
And the life that he had, they would shorten the length

Omens and warnings were constantly given
But Caesar simply waved them off
He would not fear his stance before the Senate
Little did he know, his life was lost.

There in the Capitol
Rose the dark figures
They took their places to kill
With no hands on any triggers

One by one
Caesar's body was punctured by the blade
And each conspirator had their turn
Watching the life of a great ruler fade...

As the round pitched to noble Brutus
Caesar's heart was filled with betrayal
No chance to save him now
Brutus finished the deal;disabled.

And the shouts and cries flourished of
"Caesar is dead"
The conspirators ran about happy
Not a single tear shed.

But the words of Mark Antony
Reached across troubled citizens
Now the real work of conspirators
Was plainly eminent

One by one
The dark figures felt pangs of guilt
They couldn't be on the face of earth
Because the fall increased greatly of the pride they built
They were willing to give up all they were worth.

So deep within the crumbled walls of Rome
No longer walked dark figures of a conspiracy
Only the voices of commoners in hushed whispers
Telling all about the Julius Caesar Tragedy!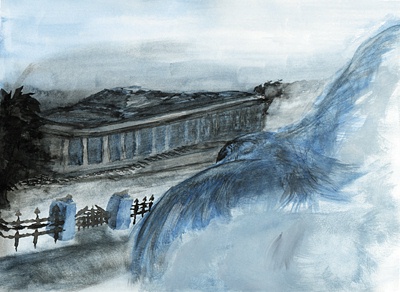 © Maria J., Phoenix, AZ