Alone
November 5, 2009
Alone in her room.
She crys herself to sleep.
Waking up to her lies that she created to make herself appear sane.
Covering her body with layers of black clothing and her skin with scars.
Her make up is the blood that pours from her wounds.
Her peers see her as a freak so they avoid her.
They don't like what she is feeling inside.
Her feelings scare them into putting her away.
They won't to get rid of her.
She turns to the only thing that can make things better/
Placing it to her skin she starts to add jewlery to her blood art.
Nobody should feel this alone.
She watches as the blood slides down her arm.
Blood is something she doesn't fear.
Something she understands.
With people they mock her.
Calling her crazy.
Pointing at the way she dresses.
How she looks acts.
They hate everything about her.
Putting away the only thing that understands her.
She clutches her still bleeding arm and trys to shut out the demons in her head.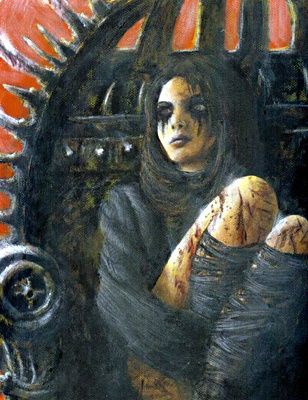 © Veronica N., Kenora, ON, Canada