IN MY DREAM
December 20, 2009
in my dream i heard a voice
a voice with chatter and pain
in my dream i heard the rain crying(drip,drip,drip) each raindrop singing a song
in my dream i saw no happiness, no joy, no laughter, but sarrow
in my dream i turned my head and saw a little girl bundled in a corner
i asked the little girl why the long face?
she said i have no meaning for life
she said she doenst belong in this world.
i reached for her hand and she reached for mine
and i began to cry
her arms was filled with deep red cuts and her skin was pale as snow
she said no please dont show me no sarrow each cut tells a story
she traced the marks on her arms and said i have no mom or dad and was left alone in the streets.
she told me she was raped and beatin everyday by strangers in the sheets
i looked deep into her dark brown eyes and told me that I am sorry.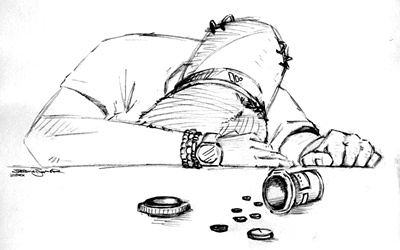 © Jeremy B., Austin, TX