Free(lost?)
January 5, 2010
somewhere out there
colorful shadows exist.
gazing at rainbows in teh mist,
i step out of my comfort,
into a deeper kind of happiness,
that controls my inner being,
by freeing in to gallop,
past streams of sparkling water,
love envelopes me.
Jumping in the air,
gravity doesn't pull back.
the harshness of the impact doesn't bite,
and i am free,
to wonder this strange universe,
alone yet completely satistfied,
with humanity and spirituaity.
the light breeze prickles at my bare skin,
and my heart flutters,
as i peacefully drift,
through seconds or weeks,
that slowly speed by,
stopping before they ever end.
They will never end.
They can't ever end.
Please, never end!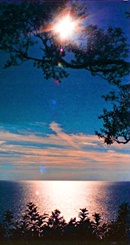 © Crystal B., Gresham, WI