The Moon Invades
January 12, 2010
The moon invades
For, by nature, it is an invader--
of every nook and cranny known to man--
Slipping in on midnight viewings of
Emeril cooking up a stirfry;

Finding itself as the passenger
in on a one-man journey
to a fast-food chain
--Yes, we're open late!--
After losing The One;

Peeking through the curtains
on two other lustful teenagers,
drunk and total strangers;

Sitting as an audience
for a private Neil Diamond jam-session
on a pecularily busy freeway
at nearly one in the morning;

Invited to a kitchen-based display
of broken hearts and broken tempers
as Aunt's Best China meets its demise
on the corner of sparkly granite countertops.

Yes, the moon invades,
unwanted,
being placed third behind
glowing suns and pistol-like, punchy stars;
finding us at the worst of times,
the best of times.

And I wonder, as the moon invades tonight,
Will it be surprised
As I use my own pillow instead of your arm
for the first time in 57 days?
Will its crater drop open
in a delicate O of shock
When my hands aren't wound in yours?
Please, moon, don't invade tonight;
I don't know what excuse I could find for you
for the burning stack of letters
in my wastebasket.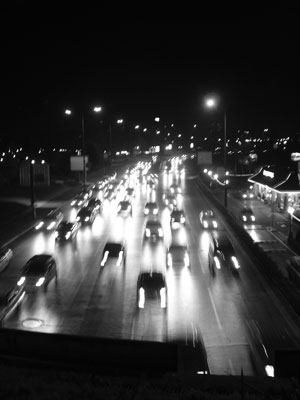 © Marietta S., Pleven, Bulgaria