Forever, my love.
February 16, 2010
I'd like to buy an apartment in Paris,
with a miniature balcony and a table for two.
Flowers would bloom in all of the windows,
and you'd be with me, and I'd be with you.

Each morning we'd ride, on our old-fashioned bikes,
to our favorite café down the street from our home.
With the poets, and artists, and lovers we'd sit,
eating pastry and sipping hot coffee with foam.

And at night, with your arms wrapped around me too close,
we'd lay in the sky with the moon and the stars.
And all over the earth, or anywhere else,
I'd know that no love could be sweeter than ours.

But what of those girls who speak nothing but French,
and the language of stealing poor innocent hearts?
Who smoke cigarettes, brush aside all regrets,
and are always most knowledgeable in the arts?

What if she laughed, as she ran through the streets?
Would you follow that sound for the rest of the day?
Would you climb to the tip of the tall Eiffel Tower,
and, taking her hand, would you both fly away?

I'd never be able to live with the fear
of loosing my darling; of loosing you, dear.

I'd like to live on a tropical isle,
in a cozy and comfortable hut by the sea.
And the sound of the waves would echo the vows
of my love for you, dearest, and your love for me.

The sand would be soft, and as pink as your skin,
and the sun would keep shining all morning and night.
At the start of each day, I'd remember to pray
that nothing should spoil such utter delight.

The salty, clean water would tickle our toes
as we rest in the warmth on the edge of the beach.
A rainbow of seashells would litter our lawn,
and inside them hide all of our dreams, within reach.

But what of the sirens, who call from the seas,
with voices as sweet as the red in your lips?
And the mermaids who giggle and whisper and wave,
and beckon you towards them with white fingertips?

What if they swam much too close to the shore,
where the smell of the saltwater dripped from their hair?
Would you kick up the sand, like dust in my eyes,
and dive underwater, forsaking the air?

I'd never be able to live with the fear
of loosing my darling; of loosing you, dear.

I'd like to live on top of a mountain,
where valleys of snow are all we can see.
We wouldn't need people, or cities or towns,
for I would have you, and you would have me.

In our little stone cottage, nestled in trees,
I'd kindle a fire with the lies that you've told.
And the smoke from that blaze, and the warmth of your arms,
would protect me from monsters, or at least from the cold.

Our lives would be simple; no worries or cares
would upset this silent and rapturous shrine.
In our loneliest paradise, nothing would count
but the soft, sticky feeling of your hand in mine.

But what of that demon who haunts us in dreams,
and whispers unhappiness into our ears?
He cares not for love, or the life that we've built.
No, he cares not for us, and he laughs at my tears.

You might start to think of the life that you've missed;
the thrill of discovery, and things still unknown.
You might go out searching for what I can't give,
and I'd wake to find that you've left me alone.

I'd never be able to live with the fear
of loosing my darling; of loosing you, dear.

I'd like to live in the Garden of Eden,
where I know that you'd always be faithful to me.
Nothing would stand in the way of our love,
and all would be just as I know it should be.

But even in Eden, the devil is lurking,
asleep among secrets; asleep in the mud.
And what would I do, oh, what would I do,
if I found that your own teeth were stained red with blood?

No, there's only one way that our love can be perfect;
there is only one place I know all can be right.
I need to be sure that nothing will change you,
so close your eyes, darling, and I'll kiss you goodnight.

And neither of us shall live with the fear
of loosing our love.

forever, my dear.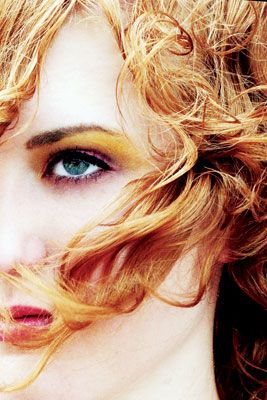 © Rebecca B., Marietta, GA