"That will cost $your.heart"
February 17, 2010
Over a thousand thoughts- who counts?
Just throw them in the carts' stomach.
Don't forget the whispers that kissed your ears:
Your favorite fill…check it off the list.
Don't forget the bottled screams lavishing deep.
Don't forget to add different shades of blue.
Never forget the whiskey to wash it all down.
Try not to spill the five jars of raspberry jelly-
You'll pay in sufferance for every bit.
Buy fifty plunging steps into a delusional wasteland.
…one bag of cement to pour in the middle of your chest…
Another pair of eyes to tell her you'll be okay.
…some mascara black-out runs…
A journal with invisible ink to hide who you are.
A filter to make sure you don't leak out of the straitjacket.
A couple of screws to stick back in your head.
Some Tylenol pm to knock you out on bad nights…
A scar for receipt…
Your grocery list is one no heartbreak can beat.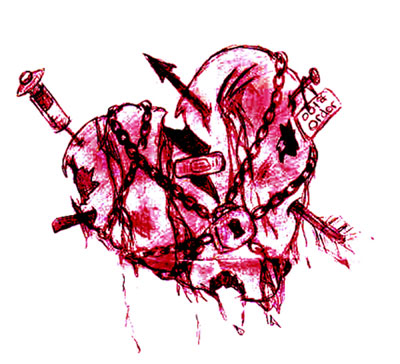 © Asia B., Hudson, MA