Happiest Man on Mars (Part 1 of 2)
February 20, 2010
I did everything I wanted to,
With you,
Without you,
I walked the path to mystery,
There was no clear road, no clear future.
And I fell out of the world.

I say I love you,
...all of you.
You may say I speak in lust and burning desire,
But I am pure in intention.
You ask who am I trying to convince,
I give no clear reply.

On Mars I found this one girl,
Names unclear and face distorted,
She seduced me into the flame of the sun.
Thoughts of you died with the drying stars.
Drying into dust.
She gave me ideas of a new life.
With her on Mars,
No other people just to piss us off.
She showed me all around,
Meteors and rockets filled the sky.
But constellations formed into a goddess,
A goddess named you.

She held me close.
She took time,
To give me joy and happiness.
She felt my gratefulness,
I felt her shelter.
And she gave me oxygen,
In a time desperately needed.
I never looked in her eyes,
So she told me they were the color of betrayal,
I imagined a deep red.

In the dark,
She asked me what was wrong,
I must have been crying.
I told her that Luna doesn't face us anymore,
I said it must have known of my evil and dirty deeds.
She tried to reassure the devil,
But nothing worked,
I couldn't sleep,
I couldn't imagine a new life.
I couldn't be without you,
And I miss you, there on earth.
The touch of your skin,
Makes me feel closer to the sun than being on it.

She took me in her hands,
And she looked me dead in the eyes.
The color of her eyes were a deep red,
Like I imagined.
They reflected my face,
And out of those bleeding eyes I saw a monster.
And creatures dancing around me and a fire,
Laughing, grinning, and welcoming me to the clan.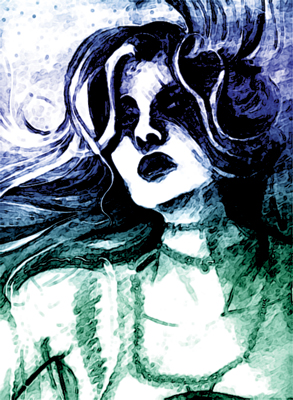 © Sindi J., Westminster, MD