Saddest Man on Earth (Part 2 of 2)
February 20, 2010
I want to be home, and for those creatures to die.
In few words I tell the girl I can't stay,
Not here, not anymore.
And she asks me why.
I tell her there's someone else,
Someone back on earth who I need.

She looks at me with her red eyes,
And her shrill shrieks pierce the still nothing of space.
She turns to ash then hits the ground below.
The girl is gone, and the creatures have disappeared back into the red blood of her eyes.

I wake up to the bed I have come to love,
You are next to me in peaceful silence.
I kiss you and say I must go, you smile and try to look into my eyes,
I turn my head.

I walk through the cemetary where my soul and innocence lay.
Stone angels pray for my soul in the loud, banging rain, they beg Lord for my forgiveness.
I thank them for at least trying.

In the cold night, it gets warmer.
Luna faces me again.
And you are none the wiser of my misdeeds.

Food tastes like nothing, pleasures are chores.
My head is clouded, my heart is pumping fast.
I think of that dream, and what it meant.
I am not human, I am a monster.
I am a part of something different, residing somewhere distant.
Where only the creatures of the night welcome me into their home.

I look to the sky, I can't find Mars,
And I find it for the best.
Recurring dreams keep me awake at night,
So many pills and so many thoughts.
At least I'm with you.

At work, I struggle to find the right key,
Because she's there,
She's right there winking at me into an early grave.
I think of you,
And I tell her what I told the woman with red eyes.
She replies in a similar way,
Her eyes are a deep yellow,
The color of a coward.
And inside those eyes,
I see myself in a corner,
Crying my eyes out, with an empty bottle of whatever.

My mind is clear, she's out of my life.
And I've set my priorities,
My sanity and you.
Things are looking up,
And there are so many stars in the sky tonight.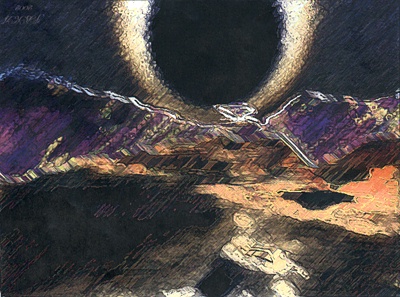 © Jason B., Colorado Springs, CO