When the Moon and Sun Collide
March 1, 2010
Why am I waiting for you?
You didn't wait for ME,
You're such a fool.
You were a running water of gold,
Of which I drank the sweetest,
Now what once was sweet,
Turned sour.
I was floating in bliss,
Gravity let me down.

Grim has come for you, you see.
Charon will now take you away.
And to think, you had time to meet your salvador,
And save your soul for ages to come.
I have brought you to them,
Forgive me, Lord, for I have sinned.

Betrayal has a funny way of being the center of the sun,
burning out,
The moon,
Ablaze.
Think twice before betraying me again.
We had love.

The sun and moon have collided,
and dark embers are falling from the eternal place,
Visions of what would have been are burning our eyes,
And, oh my love, time to say our goodbyes.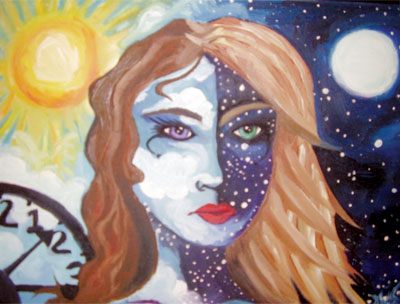 © Amanda S., Attleboro, MA