My Story..
March 15, 2010
I draw line after dark line
In the lower lid of my eyes
The darker the better
I push hard
I want to be pronounced
I dip the brush in
A tube of black ink
Black like the ghosts in the night
Like the shadows during the day
Brush blink brush blink
Over and over until my once puny lashes
Are bold, long and dark as night
I paint my dull chapped lips
A dark black
Just like my eyes
The lipstick touches my bottom lip
And then sweeps over the top
Just like it has been doing for a lifetime
I look in the mirror
Perfect
Fishnet tights, black of course
A black skirt
And a low cut black long sleeve shirt
I run my hands through my black wavy hair
Just to fluff it up
I smack my lips together
Lean in close and take one last look at my eyes
I look perfect
Some people would say Emo
But that's not how I see it
I am just expressing myself
I can be dark at times
And I like the way it looks
I want to stand out
I don't ever want to be a regular person in the crowd
When I see myself my green eyes stick out like a soar thumb
Especially when in black
I like everyone else have a story
I once was like everyone else
I once was just a person in the crowd
But now my soul screams
My outfit
My makeup
All black
Like my soul has become
You wonder how that happened?
Well you have to come close to find out
Some people are scared of me
It makes me laugh
I am just a person
Like you and me
What happened to me
My story
Made me this way
To figure it out
You will have to get to know me
Because beneath my
Black fishnet tights
Beneath my mascara
Beneath my lip stick
Beneath my body
Somewhere is a soul
Crying to be unlocked
Crying to be set free
Pleading to tell it's story
Just like many others
Just like someone who blends in with the crowd
I have a story
Something that turned me dark
You want to know me?
Read between the lines
The lines that are still dark
I will continue
Drawing line after dark line
Here is my story….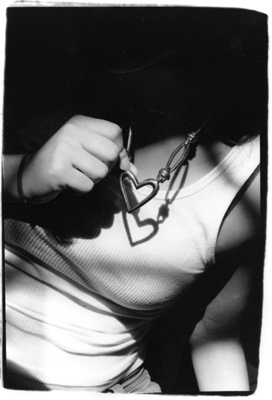 © Julia R., Bethesda, MD