Goodbye
March 7, 2010
His lips so close to mine I feel his breathe,
As he gently exhales and nears closer for a kiss,
I close my eyes and save this moment forever.

As our lips touch,
Our hands tangled together like the wild vines of a jungle,
My heart beats louder and louder like the sound system of his white jeep.

He lets go of my hand and brushes the hair away from my face,
He smiles at me,
Teeth white as snow and says goodbye.

My heart beat slows,
As if suddenly the radio stopped and the bass disappeared.
I want him to stay.
Tell him please don't go.
Yet I hear myself whisper goodbye.

The words sound strange,
As if spoken by someone else.
As you kiss me,
I hold you tight,
The scent of your cologne fills my air,
I take a breath and breathe you in.

You let me go,
And slowly walk away,
And with each step you take I miss you more and more.

When you get to the door you turn to me and wave,
I wave back and smile,
And realize how lucky I am to have someone to miss.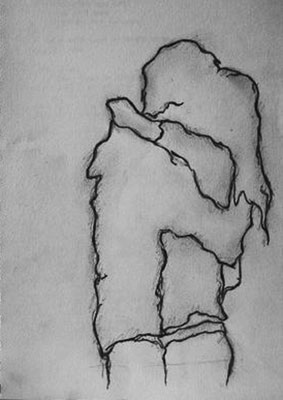 © Nicole B., Newcastle, WA