Thunderstorm
April 11, 2010
Rolling in from the east,

The skies go gray,
Like soot from a fallen humanity.
A hear a faint rumble
Like a giant's hoarse grumble
And the clouds begin to cry—

They cry for the world,
Who's fogged up their eyes,
With grief that only God knows.
They cry for the love,
That people once knew
Like second nature—
To them it once came.

It flowed from one man to the next—
Like the tears that the clouds now cry
Making puddles on roads,
And streams into rivers,
Making dirt where the mud once did lie.
But now the storm calmed
And the streams settled
A new life will spring to its feet

Out of the sorrow
And tears of a cloud
This slender stemmed beauty of old
The sign of peace—
And love to unfold,
Will come out of its slumber,
To see—
What times will come alive.
What sun will arise.
What spring has to offer,
To thee.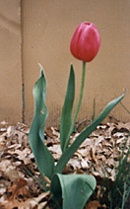 © Ashlee R., Plano, TX