Fading into Sidewalk Cracks
April 28, 2010
People like the words I speak when nobody is around to hear them,
The ones I capture onto a page like a spider spinning a sticky net
Catching them
And sucking away the meaning
Until all the thoughts jumbled in my head
Make sense to someone.
So they smile
And say,
I like it.
But don't they know that those tiny
Blocky words thrown onto the page without a care,
They are the very deepest.
Pinpricks of my soul
And they could never really comprehend.
I wish that I could live on
Pads and pencils,
And inky pens that run over the page.
That I could sit in bed all day
With my eyes glazed over
And my thoughts
Running a mile a minute
With nothing but words
To keep me company,
But poetry doesn't keep me living,
Merely keeping me sane.
And someday I fear when reality forces me
Out into the open
Into the cold real world,
That doesn't make sense after a couple of rhymes.
I will grow skinny with sorrow
Until the pointy edges
Of a ruthless and cubistic world,
Crumble me.
And when my sorrow and my crazy spill out
For the world to see.
Maybe then I will fade into a sidewalk crack.
Maybe that would be the best thing anyway.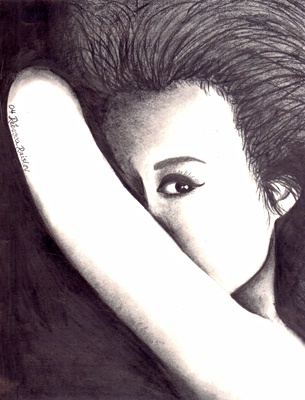 © Rebecca R., Edison, NJ