Moonlight Stroll
May 8, 2010
I'm walking on the smooth sand of the beach.
The air around me is misty and mysterious.
The smell on spring dawns on me.
The sky is a very light shade of blue and gets darker, turning into purple then red as a rainbow of colors forms on the horizon,
Setting the tone for the beautiful sunset.
Appearing in sight is the moon glimmering down on the ocean as it ripples and soothes me
with it's sweet and relaxing song of water.
I sit and look up at the night sky
Gazing at the magnificent stars.
The sky is like a painting ,so beautiful.
This is a perfect time to take a walk on the beach.
This I call my moonlight stroll.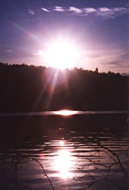 © Laurie T., Hopkinton, MA