Untitled
May 11, 2010
I'm so tired of waiting for you to see
You said you could relate to me
Why do you act this way?
Why do I feel this every single day?
The answers shouldn't be that hard to find
Being you've already invaded my peace of mind
The answer is there's no solution
My head is filled with all this pollution
I cannot see the real world through my eyes
I hear it through another's cries
The cries that echo through my head
That make every waking moment such a dread
Things aren't always as they seem
In dark nightmares and vivid dreams
Things that haunt me late at night
Ruled by illusions and tricks of light
Dark shadows dance around my bed
I can't tell if they're real or just in my head
A familiar voice taunts me in my ear
She's telling me lies, but confirming my fear
I close my eyes and wait for this to be done
But it's only the beginning, its all just begun
The morning comes with the light
It pushes the darkness form my sight
I wake with hope and no fears
But I just find lots more tears
In this diversion from what is true
A lie is nothing I find new
But when I find a ray of truth in this tangled mess
I realize I truly am somewhat faithless
I look out the window to see it has rained
I stop to wonder how long these feelings have been contained
Three months? A year?
I don't recall, it's unclear
The world stops turning
But I continue yearning
For this torture to be done
To see the shimmering rays of sun
But all eyes look down on the accused
The lost, the helpless, and confused
So many people hold us back
But self-control is all we lack
The unbearable pain makes it difficult to comprehend
Who's a foe from who's a friend
While we hide behind the bars
We search for a way to heal our scars
But that's when we realize we don't hate the pain
It's a part of us, it's in our veins
We've found the path that we've sought
It doesn't make a difference if we make it or not
For once we're here, we can't turn around
Everything we've lost won't be found
Black and grey are the colors we see
With red and blue to express the feelings of me
Its a darker world where few would want to go
Where hate and anger choose to show
It's where we'd prefer to be alone
And feel the pain on our own
We laugh, amused, as the pain sears
For we've seen it all, we have no fears
And this is when I finally see
In this life, what really matters to me
I see, back home, where I've left
The real me, there's been a theft
I see, back home, where I've gone
I'm without a soul in the dawn
Lying on the wet ground
Where I know I won't be found
I come out of my dark protection
To a world of imperfection
To fufill the place inside
The heart of me who died
I wake to see the sight of a new sunrise
A renewed life without lies
Forever I'll remember the dark I used to see
And the rage and hurt that ran through me
The desire for revenge that I felt for so long-
It shows so much in my favorite song
My experience with darkness has me changed
I'm no longer what I used to be, so deranged
But now I'm free to feel the love I felt before
Before the hate came knocking at my door
"Thank you for looking deep in me
Thank you for seeing all there was to see."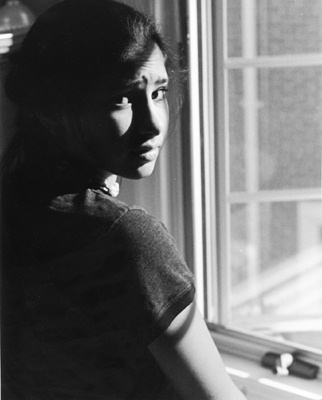 © Jennifer H., Bethesda, MD