Temptress
May 30, 2010
Dreams are a dangerous place, I've realized.
It is where you are,
Where you reside,
Another circle of hell, I presume.
A secret. A living, breathing secret, she is.
Inadvertently, she brings me misery in form.

I wish I knew why I love you,
It's not what you are.
Is what I wished you were,
And that is with me.
Always on my mind,
I think you know the truth.

You deserved better,
And even worse,
You realized it soon,
So soon.
You realized it soon.

My tragic temptress,
Her feet step into the water,
From the waterfall above me.
A waterfall of nostalgia.
She comes to me in a sweet dream,
She rests her warm hand upon my cheek,
Tells me I am nothing but a fool.
The waterfall washes down upon her,
Which I can't help but notice.
It has no effect on her,
She couldn't care less about how we used to be.

In this cave,
I try to tell her I've changed,
I'm not what I was.
She puts her finger to my lips,
And tells nothing of that matters.
"We could never be,
Because you don't exist,
Not to me."
I say "I know,
I just can't help it."

Just to be lost,
In her eyes and her skin,
Brings me to bliss for a second.
But it pains me to see,
Others brush the hair from her eyes.

Snake around her ankle,
Scorpion in hand,
She's danger from head to toe,
But she's got to be mine,
She needs to be mine.

I think you know the truth,
I miss you.
My tragic temptress,
My femme fatale,
My beautiful queen,
My decadent hope for us.
Luna's light shines on your wet back,
You blind my ever-staring eyes.

You're in the dark.
How has my grudge come back to haunt me,
How it taunts me every day.
But I wake up,
With an imaginary kiss.

Just to belong,
I'm with you,
You're with me.

Do you think of me?
Has your life been fulfilled?
Untrue?

No savior,
No savior to guide my way,
I'm only lost.
Lost, a slave to you.
I see you don't know it,
But I am no monster.

Obsessed, they say.
I take offense,
For it's only love.
No other could understand,
I realize, I realize.
Just one more hug for me,
To cherish for centuries,
Through this life and the next.

You deserved better,
And even worse, seductress,
You realized it too soon.
Too soon.

Femme Fatale,
My femme fatale,
Breath on my weakness,
My femme fatale,
My femme fatale,
Don't kill me yet,
Don't kill me.

She draws a blade in the darkness,
Which she puts to my neck.
She can smell my fear.
She cuts my throat and my blood washes away.
She ignores my calls out for her,
As she watches me fade.
This is not what she came for,
But it's what she was owed.
The bats cry out in the night,
And she walks out of the cave,
She turns into a serpent and slithers away.

In the cold night,
I awaken in my apartment,
Clutched is my throat.
I pant and I worry,
Midnight on the clock.
But I go back to sleep,
Because I can't stand one second,
From my self-destruction.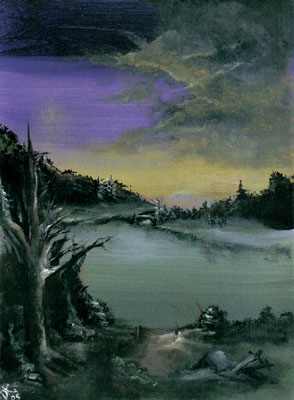 © David K., Birkenhead, UK