Hand-in-Hand
July 6, 2010
Bombs burn like passion ablaze,
the heat in my mind is just a phase,
it guides my tongue through a maze,
of twisted stories false of heart,
so let me tell you from the start.
A simple man his name was john,
his uncles fought in vietnam,
he graduates highschool,
what a sucess.
what will he do in life?
what comes next?
he just cant decide,
he says,"maybe i
could serve some time
like my uncles left behind.
that would make my family proud."
The idea seemed to sing out loud.
He says his goodbyes, pardons and farewells,
Tells his family to write, friends as well.
After his bootcamp he is sent to iraq,
hes heard some stories, not sure of fact,
what to expect, what to see.
The first city is quiet, seemes like peace.
Perfect place for camp, "we can finally get some sleep."
In the stillness of the night,
candles seemed to burn just right,
A boy in johns platoon,
goes to use the restroom,
as he steps out of his tent,
a shot goes off, scaring the rest.
everyone is horrified, jumps to arms,
the boy is left dead, this is only the start.
john makes friends with his boys,
his boys become men,
they always stick together,
nothing could seperate them.
In the heat of battle, the boys are like one,
Like only one soldier, fighting under the sun.
Now its the last day, they've all served so much,
the boys are ready to go home, they've done enough.
Driving the jeep back to base camp,
an I.E.D is hidden in the sand,
the jeep hits the bomb, the car is sent hurling,
through the air curling, slides in the sand,
all the boys together, hand-in-hand.
When the car stops moving, john struggles but gets out.
He looks around the car, not a single man survived.
He falls to his knees and begins to cry,
he signed up for pride, just like any other.
he had met some few men, who he could call brothers.
When john arrives home, he is met with a general,
your brothers are being burried, will you attend the funeral?
he says,"yes sir, it would be an honor,
i want to see my brothers be seated at the right hand of the father."
The flags are folded, put with the caskets,
Tears are flowing, like the flowers in the baskets.
The boys are lowered into their eternal graves,
john says," wait, ive got one last thing to say."
he wipes his tears away, facing the men,
" these boys were the closest i've ever had to brothers, and hand-in-hand were always together.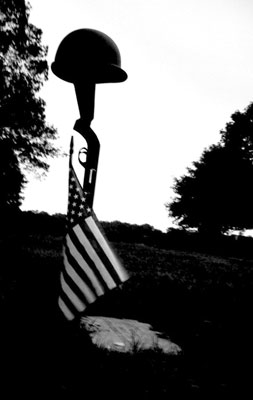 © Kristine B., Setauket, NY