Pigtails
MAG
June 21, 2010
Before it all,
When I was once a
Tall,
Green,
Limber
Blade of grass
Swaying in the wind,
Straight up and down,
So simple,
And so naive

When I was once just a flurry of golden pigtails,
A gust of smooth skin,
A hint of wide eyes
The color of sweat dripping off your water glass

Before my smooth sides,
Those perfect lines,
Turned to curves,
A hilly horizon
Upon which you could watch the sun set,
A forest road,
Neglected over time but newly discovered,
Rough and arching,
Before my gait changed
from the gallop of a child
to the strut of a woman

Before I became a wh--e,
Something to be looked at,
Whistled at,
Howled at,
Before short-shorts existed,
When my legs were tools for running as far as they could take me,
Not medals to be shined and polished,
Before there was a glance down my shirt,
A kiss on my lips,
Back when it was safe to walk alone

Before,
When women were princesses,
Worshipped and valued,
And I could do whatever I wanted
Because I was strong,
And no one could take that from me,
Back then I was free.

Now I'm too old for all of that.
The giggling young girl is held down by ­expectations.
I must be sexy
But still innocent,
And too stupid to care.
My body is no longer my own.
It belongs to anyone but me.
The strings of a plastic puppet
move my once-familiar limbs
up and down,
sway from side to side,
to catch their attention,
to gather the comments of young boys
I once played tag with.

I'm new and molded
into my teenage form,
taught not to be offended.
"You like it."
"It's a compliment."
"It's normal."

I want to stop them all,
Clap a hand over their mindless statements.
Do you realize
what you're saying?
I could be your little sister
Or
Your
Mother.
I have a part of every woman in me,
The tinge of her lips,
The slant of her smile,
The arch of her back,
The curve of her breast,
And your shame won't erase my features.
The little girl still spins in circles,
Swinging her pigtails and studying her
pure world,
And I will make her proud.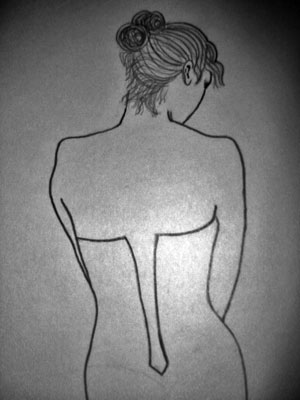 © Jennifer B., Larchmont, NY