My Muse, Beethoven
June 24, 2010
The melody mesmerizes the soul of the witness
the cordial tune sings a song to the heart.
Rising and falling like the rhythm of this sentence
the notes whisper and shout just before they depart.

One after another, in harmony they sing
fingers dance over the keys of black and white.

The bass notes rumble while the trebles sweetly bing.
Louder, faster they scramble, till the song's reached its height.

The beauty of the cry is touching, to be sure.
Candy to the ears is this music so sweet.
Like a dove's chirping chorus, the listener craves more
like a rose in a field of wheat.

Onward the rhythm proceeds, slowing now and then.
Bounding, jumping, staccato it rings
until the musician declares a slurring bend.
Now the notes run together, blurring and swirling; legato it sings.

Whether loud or soft, if it invigorates or quells
music floods the soul and cleanses the mind.
Like the ocean's waves, the notes recede and swell.
Music fills one up and leaves the rest behind.

Now slower and softer the cordial tune becomes
but it still hums gently with delight.
The notes are far between now, leftover musical crumbs.
The vibration dies out, but the song lives on, like the eternal bliss of love at first sight.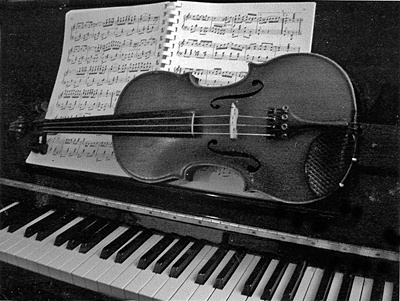 © Edwyn A., Chula Vista, CA